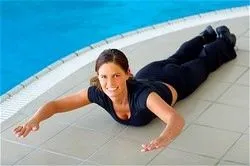 Current research supports an active component of exercise and proprioception with all manual therapy.  Engaging patients in their own care can increase the speed of recovery and empower patients to take care of their own health as well.  The goal is to prevent chronic issues that can be disabling.   
Rehabilitative exercises targeted to your specific needs and condition will improve strength and endurance and decrease pain.  The prescribed exercises will decrease the likelihood of recurrence and/or hasten the recovery time should there be another episode. 
The exercises can generally be done at home and at your convenience.