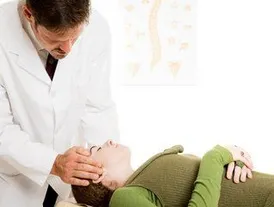 An adjustment is  a  pressure from the chiropractor utilizing the hands or an instrument to restore motion into a hypomobile (decreased motion) joint. This happens with a quick movement and is often without discomfort. You may or may not hear a noise that sounds like you're cracking your knuckles referred to as joint cavitation. It is the release of gases such as oxygen and nitrogen from the joint.  ReNew Chiropratic also has a "drop" table that is used to facilitate movement using low force and the patient's own body weight to restore movement. 

Overall, adjustments are an excellent way to keep the body functioning at its highest level. When the body is not "restricted", the body systems (nerves, muscles and joints) are able to respond and perform as they were designed.
Joint mobilization is also used for patients who don't tolerate and/or it is contraindicated to direct a pressure into your joint.  Joint mobilization is carefully applied passive and graded force into a joint to restore motion and normalize function.  Mobilization can be used to control pain and can be used in all joints of the spine, pelvis and all the exgtremity joints.